Welder STAHLWERK AC DC TIG 200 Pulse CUT with Plasmacutter & MMA welding machine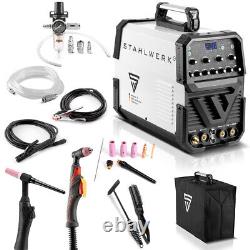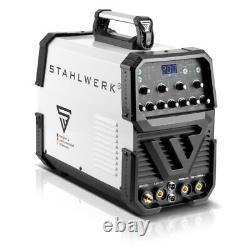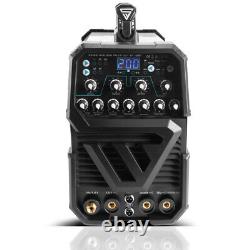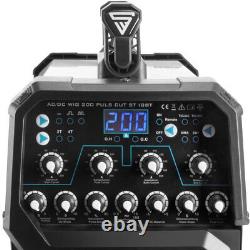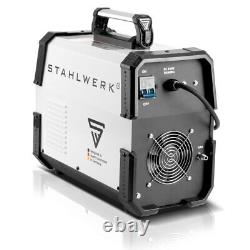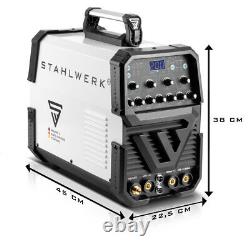 Products testing at our company. STAHLWERK AC/DC TIG 200 pulse with plasma welder with CUT function. Guaranteed spare parts supply for 10-years.
Our own workshop and repair service. 100% compatible high quality accessories. Over 100.000 satisfied customers in Germany, European Union and Switzerland. We are happy to invite you to test the devices on-site. Our customer service is looking forward to your visit.
Visit us soon at various international trade fairs. Our team advices you in various languages such as DE, EN, FR, ES, IT, RU, TR.
Video opens in a new window. Important functions & device information at a glance. AC/DC TIG welding - alternating current (AC) and direct current (DC). Welding of almost all metals, such as steel, stainless steel, aluminium, copper and many more.
3 in 1 combination unit - TIG & MMA welding is possible up to 200A, plasma cutting up to 50A. Plasma / CUT - A current is used to generate a plasma jet that melts the material, which is then removed with compressed air. In this way, all conductive metals such as standard steel, stainless steel, copper, aluminium, titanium and many more can be cut precisely and effortlessly. Cutting thickness - Depending on the material, cuts of up to 12 mm are possible.
Mild steel ST37 up to 12 mm, V2A or V4A up to 8 mm, aluminium up to 5 mm. Extensive pulse function - TIG PULS - prevents materials from burning through and reduces deformation due to heat, especially suitable for welding thin plates whose material may only be heated a little.
Adjustable parameters are: Pulse current, pulse width, pulse frequency, long and short pulse. IGBT technology - The latest and most modern transistor technology enables high performance welding! No transformer, no MOSFET, state-of-the-art IGBT! Lightweight & compact design - only 13 kg and measuring 455 x 220 x 370 mm.
Innovative IGBT transistors save space and weight compared to the old MOSFET technology. HF ignition - enables contactless ignition and ensures a much better welding result. No LIFT ARC, no strike ignition! Highest Efficiency & Power - Single phase AC (230V) powers the unit and allow output power of true 200 amps. Smart cooling & overheating protection - State-of-the-art technology, integrated overheating protection and high-performance cooling allow the maximum power to be called up.
2T/4T (TIG) - determines the control of the operating mode and provides extended control over the current flow. In 2T mode, high-frequency (HF) ignition remains active until the button on the torch is released.
In 4T mode, the arc is ignited after pressing and releasing the button once. After pressing and releasing the button again, the ignition is terminated. Some functions, such as current reduction, are only possible in 4T. Current increase/decrease - prevents the formation of shrink marks (end craters) at the end of the weld. Contact ignition (CUT) - High frequency (HF) contact ignition for first-class ignition behaviour.
A swipe over the workpiece is sufficient. Cutting current (CUT) - Stepless adjustment from 15 to 50 A.
Air follow-up (CUT) - After the cutting process is finished, air automatically flows in to cool the torch and reduce wear on the nozzle and electrode. Gas pre-run and post-run (TIG) - protect the tungsten electrode from excessive wear and protect the weld seam from oxidation. The parameters can be set individually and separately. They specify how long gas should flow before and after ignition. AC-Balance - is a variable setting between breaking up the oxide layer (-) and a deeper firing (+). This helps to influence the properties of different materials and alloys. Remote regulation via torch or pedal. The welding current can be conveniently adjusted at any time via the rotary control mounted on the torch. Alternatively, the welding current can also be regulated with our optionally available foot pedal. Welding current / pulse current - The two buttons "Welding current" and "Pulse current" allow you to set two different current strengths for a welding process, between which the welding current then always alternates. Pulse width - With the pulse width you set how long the welding current assumes the current strength of the pulse current before it swings back to the normal welding current strength. Pulse frequency - The pulse frequency determines how often the amperage alternates between the two set values in a set period of time.
Long pulse - The weld becomes wider, the heat input is higher and the penetration is deeper. Short pulse - The weld pool is easier to control and there is less risk of welding a hole in the plate. Foot pedal - Remote current control via the foot pedal (not included). The foot control mode gives you the advantage of being able to regulate the current even during the welding process, giving you different options for carrying out the welding work.
No pulse function possible in pedal mode. The maximum current is set on the unit.
The foot pedal is set to 10. When the foot pedal is pressed, the unit ignites with a lower current than is shown on the display.
As soon as the foot pedal is fully depressed, the set maximum current is reached. The value on the display does not change during this time. Examples: Maximum current display: 100A / ignition current through pedal: approx.
40A, Maximum current display: 150A / ignition current through pedal: approx. 80A, Maximum current display: 200A / ignition current through pedal: approx. Hotstart - Automatic voltage increase at start for better ignition results. Anti-Stick - Automatic decrease of welding current when electrode sticks, allowing easy removal. TIG (Tungsten Inert Gas) - Gas shielded welding with inert/inactive gases such as Argon 4.6 (99.996%). An arc is created between the tungsten electrode and the workpiece in an argon bell. This melts the material and any filler material that may have been added.
A weld seam is formed. MMA electrode welding / ARC welding - a universal welding process. An arc causes the electrode to melt, thus forming the weld seam. No shielding gas is required.
Note :The unit is not intended for use in residential areas where power is supplied by a public low-voltage power supply system. It may be difficult to ensure electromagnetic compatibility in these areas due to both conducted and radiated interference.
230 V AC (+-15%) / 1 (single phase). (TIG / MMA / CUT). 31,3 A / 32,0 A / 34,4 A. Maximum effective mains current I. 16,5 A / 14,3 A / 15,2 A.
Dimensions L x W x H (mm). 455 x 220 x 370. 3,5 - 4 Bar. IEC 60974-1; EN 60974-10 (Class A). STAHLWERK AC/DC TIG 200 pulse with Plasma ST.
TIG Torch Package "WP-26F" 3 meters with flexible torch head and bend protection at the gas connection. TIG accessory set, 8-pieces: 3 x gas nozzles in sizes: 5, 6, 7, 1 x collet size 1,6, 1 x collet body size 1,6, 2 x back caps (a long and a short each), 1 x universal tungsten electrode (Pre-assembled accessory on the picture of the welding torch is part of the 8-piece set). Professional hose package "AG-60 / SG 55" 3 meters.
Plasma accessory set 3-pieces (already pre - assembled on the plasma torch) : 1 x plasma nozzle, 1 x plasma electrode, 1x ceramic cap. Water separator with pressure gauge and snap-on quick coupling. Connection hose with snap-on quick coupling to connect the device with the water separator, incl.
Gas hose with snap-on quick coupling 5 meters. High-quality professional AG-60 plasma hose package with integrated probe protection. Optimal cutting and ignition performance up to 70 A.
Thicker hose and more robust wear parts than PT-31. High-quality professional WP-26 TIG hose package with flexible torch head and bend protection at the gas connection. With adjustment wheel for remote control of the welding current on the handle. An 8-piece wearing parts set for immediate start is included. Connection of compressed air hoses in seconds thanks to 3/8 snap-on quick coupling on the unit and water separator. One handle is all it takes.
Including 5 metre gas connection hose with quick coupling. On welders, plasma cutter and automatic welding helmets. Details in terms & conditions. You can return the item within 30 days. We are happy to advise you about our products and service.
Matching accessories for this device. Other STAHLWERK devices from this product category. STAHLWERK AC/DC TIG 200 pulse with plasma w.. Do you have any questions about our offers?
This item is in the category "Business, Office & Industrial\CNC, Metalworking & Manufacturing\Welding & Soldering Equipment\Welding Equipment & Accessories\Welders, Cutters & Torches\TIG Welders". The seller is "stahlwerk-welding" and is located in this country: DE. This item can be shipped to United Kingdom, Ireland.
Brand: STAHLWERK
MPN: 1001
WARRANTY: 7 Years Warranty
ORIGINAL: Here you buy directly from the manufacturer
EAN: 4260294080010