TIG Welder STAHLWERK CT 550ST with PLASMA CUTTER IGBT Inverter Welding Machine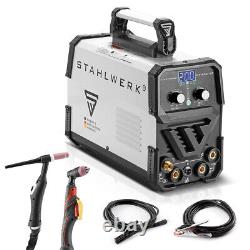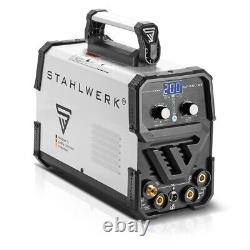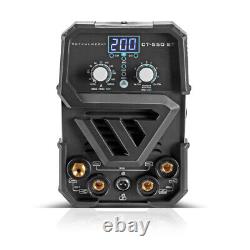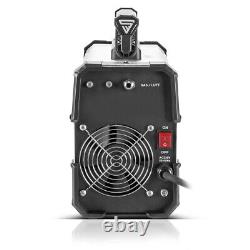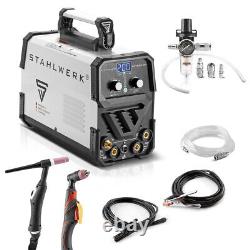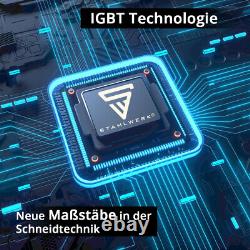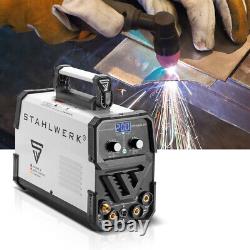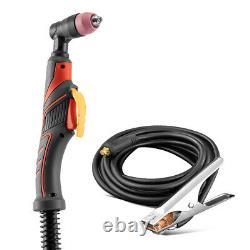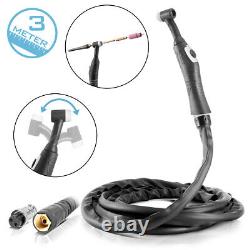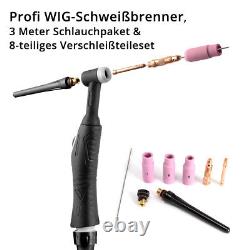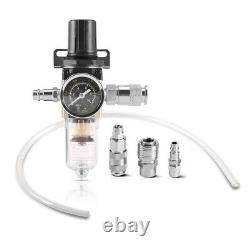 Products testing at our company. STAHLWERK CT 550 ST IGBT - DC TIG WELDER with MMA / Plasma 50A 3 in 1 combi unit. Guaranteed spare parts supply for 10-years. Our own workshop and repair service.
100% compatible high quality accessories. Over 100.000 satisfied customers in Germany, European Union and Switzerland. We are happy to invite you to test the devices on-site.
Our customer service is looking forward to your visit. Visit us soon at various international trade fairs.
Our team advices you in various languages such as DE, EN, FR, ES, IT, RU, TR. Video opens in a new window. Important functions & device information at a glance.
DC TIG welding - Direct current (DC). Welding of almost all materials such as steel, stainless steel, copper and many more. Plasma/CUT - With electricity, a plasma jet is generated, which melts the material, which is then removed with compressed air. So all conductive metals such as e.
Steel, stainless steel, copper, aluminum, titanium and many more can be cut precisely. Cutting power - Dividing cuts are possible depending on material up to 12 mm. Structural steel ST37 up to 12 mm, V2A or V4A up to 8 mm, aluminium up to 5 mm.
3 in 1 combined device - TIG and MMA welding up to 200A, plasma cutting up to 50A. IGBT Technology - The latest and most modern transistor technology enables high performance welding!
No transformer, no MOSFET, state-of-the-art IGBT! Lightweight & compact design - only 7,5 kg and dimensions of 420 x 180 x 290 mm.
Innovative IGBT transistors save space and weight compared to the old MOSFET technology. HF ignition (TIG) - allows non-contact ignition and ensures a much better welding result. No LIFT ARC, no-stroke ignition! Cutting current (CUT) - stepless adjustment from 15 to 50 A.
Air post-flow (CUT) - Automatic voltage increase upon the start for better ignition results. Gas post flow (TIG) - protects the tungsten electrode against excessive wear and protects the weld from oxidation. The parameters can be set individually and separately.
They indicate how long before and after ignition gas should flow. Hotstart - Automatic voltage increase upon the start for better ignition results. Anti-stick - Automatic shutdown of the welding current in case of sticking of the electrode which allows an easy removal.
It also prevents annealing of the electrode. Highest efficiency & performance - Single phase current (230 V) supplies the device and allows an output power of real 200 amperes. Smart cooling & overheating protection - modern technology, built-in overheat protection and high-performance cooling allow you to get maximum performance. TIG (Tungsten-Inert-Gas) - Inert gas welding with inert / inactive gases such as Argon 4.6 (99.996%). An arc is created in an argon bell between the tungsten electrode and the workpiece.
This melts the material and any filler material that is supplied. A weld seam is created.
MMA / Stick electrode welding - an universal welding process. An arc causes the electrode to melt, forming the weld. No protective gas is needed. Note : - The unit is not intended for use in residential areas where power is supplied by a public low-voltage power supply system. It may be difficult to ensure electromagnetic compatibility in these areas due to both conducted and radiated interference.
Output current (TIG / MMA / CUT). 10-200 A (TIG / MMA) / 20-50 A (CUT). 1 x 230 V AC (+-15%). (TIG / MMA / CUT). 31,5 / 42,3 / 37,5 A. Highest effective mains current I. 12,2 / 13,4 / 11,9 A. Dimensions of the machine L x W x H (mm). 420 x 180 x 290.
IEC 60974-1; EN 60974-10 (Class A). The STAHLWERK CT 550 ST IGBT welding device. TIG Torch Package "WP-26F" 3 meters with flexible head.
TIG accessory set, 8-pieces: - 3 x gas nozzles in sizes: 5, 6, 7 - 1 x collet size 1,6 - 1 x collet body size 1,6 - 2 x back caps (a long and a short each) - 1 x universal tungsten electrode Pre-assembled accessory on the picture of the welding torch is part of the 8-piece set. Professional hose package "AG-60 / SG 55" 3 meter. Plasma accessory set 3-pieces (already pre - assembled on the plasma torch) : - 1 x plasma nozzle - 1 x plasma electrode - 1x ceramic cap. Water separator with pressure gauge and snap-on quick coupling. Connection hose with snap-on quick coupling to connect the device with the water separator, incl.
Gas connection hose with quick coupling 5 metres. Note : The units of the latest generation may contain details that differ from the product images shown here.
In the new design, the STAHLWERK lettering and the reference to the IGBT technology are omitted, as this is now installed as standard. We will update the pictures as soon as possible. High quality professional WP-26 TIG hose package. Optimal ignition behaviour up to 200 A. Thicker hose and ergonomic handle. An 8-piece wearing parts set for immediate start is included. High-quality professional AG-60 plasma hose package with integrated probe protection. Optimum cutting and ignition performance up to 70 A. Thicker hose and more robust wear parts than PT-31. Robust electrode holder with modern 9 mm mandrel connection and 25 mm² strong cable cross-section. Best conductivity due to high-quality copper cables. Different angles for rod electrodes possible.
On welders, plasma cutter and automatic welding helmets. Details in terms & conditions. You can return the item within 30 days.
We are happy to advise you about our products and service. Matching accessories for this device. Other STAHLWERK devices from this product category. Welder STAHLWERK AC/DC TIG 200 CUT ST with.. STAHLWERK AC/DC TIG 200 pulse with plasma w..
STAHLWERK CTM-250 Combination 4in1 welder 2... Full equipment set: Welder STAHLWERK AC DC.. Full equipment set Welder STAHLWER CT 550 S.. Do you have any questions about our offers?