Plasma Cutter 50Amp Non Touch Pilot Air Cutting Machine 110V 220V Dual Voltage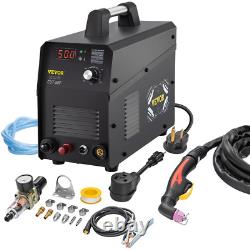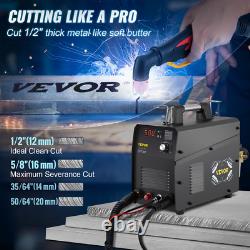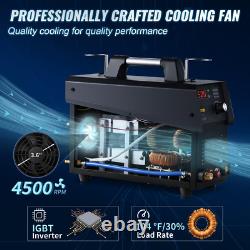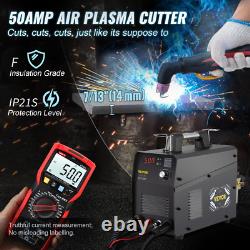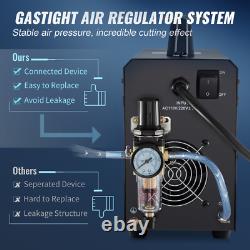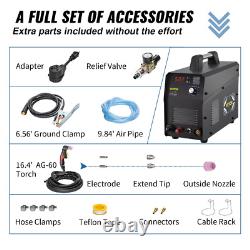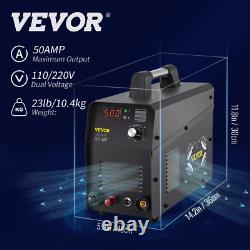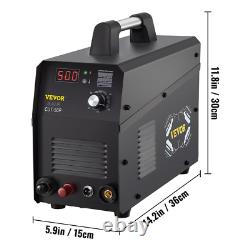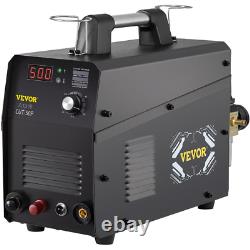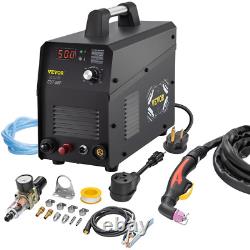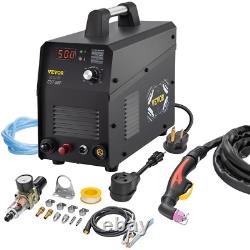 Plasma Cutter 50Amp Non Touch Pilot Air Cutting Machine 110V 220V Dual Voltage. Non-Touch Pilot Arc: Pilot arc technology allows you to cut without touching the tip of the metal. This plasma cutter pilot arc delivers a consistent and precise current to the cutting surface with better cutting quality and longer consumable life.
Ideal Clean Cut: 1/2(12 mm). Maximum Severance Cut: 5/8(16 mm). All Safety No Heat: The unique air channel design increases the heat dissipation of the power device. The IGBT inverter will greatly improve the performance of the plasma cutting machine. 50AMP Premium Cutter: Use non-hazardous compressed air to cut aluminum, stainless steel, mild steel, copper, and other metals.
Suitable for a wide range of applications, including sheet metal fabrication, light industrial, automotive repair, plumbing work, and other maintenance services. You'll be prepared to take on any challenge!
Sharper than Sharp: The gastight air filter regulator allows you to quickly connect to your air compressor. It can lower or maintain air pressure to reach effective cutting.
And you can cut through rough, painted, and rusty surfaces while producing minimal slag without any air leakage. More than You Expected: The extra long 16.4' plasma torch and 6.56' ground clamp with cable offers maximum convenience by extending your working area. Quit wasting time searching for an extension cord and adapter. The kit also includes an air regulator, air hose, 4 hose clamps, 2 cable racks, and some consumables.
VEVOR is a leading brand that specializes in equipment and tools. Along with thousands of motivated employees, VEVOR is dedicated to providing our customers with tough equipment & tools at incredibly low prices. Today, VEVOR has occupied markets of more than 200 countries with 10 million plus global members. 110/220 Dual Voltage & Portable Handle & Cutting Aluminum. It is specifically designed to produce smooth cuts.
Our optimal parts help you easily achieve smooth and clean cuts on a wide range of materials. Our plasma cutter machine is capable of delivering rich features for most professional users as well as DIY users. This plasma cutter has dual-voltage 110V/220V with an adapter.
It's an ideal cutting device that can quickly and easily be attached to generators and welders. Easily store your bulky cables, cutting torch, and power cable with the two cable racks provided. Lightweight 22 lbs/9.98 kg, with a comfortable handle, making it easy to carry anywhere you want.
It comes with an all-in-one type, with dust-proof and waterproof features, making it safe and convenient for beginners to use. You can trust it to handle your most challenging DIY projects.
This versatile plasma cutting equipment is perfect for industrial/construction work and home/hobby use. And it can be used to create artistic patterns on metals. Arc Striking: HF Pilot Arc.
Output Current: 110V: 20-40A; 220V: 20-50A. Ideal Clean Cut: 1/2/12 mm. Maximum Severance Cut: 5/8/16 mm.
Cutting Material: Aluminum, Stainless Steel, Mild Steel, Copper. Open Circuit Losses: 220V 14W; 110V 56W. Operating Air Pressure: Less than 0.5MPa.
Access Air Pressure: Less than 0.8Mpa. Item Weight: 23lb/10.4 kg.
Item Size: 14.2" x 5.9" x 11.8/36 x 15 x 30 cm. 1 x Non-Touch Plasma Cutter. 1 x 16.4FT/5 m AG-60 Cutting Torch. 1 x 6.56FT/2 m Ground Clamp.
1 x Relief Valve + 2 Connectors. 1 x 9.84FT/3 m Air Pipe. Assembled Product Dimensions (L x W x H).
19.10 x 10.75 x 13.59 Inches. Your feedback very important to us, after you get your package and you are. If you have any problem with your order / any questions please before leave any type of feedback.
Please don't send two messages with the same content to avoid delays in response. Thank you for shopping at our store.