NewF2100B 2Axis CNC Controller for CNC Plasma Cutting Machine Laser Flame Cutter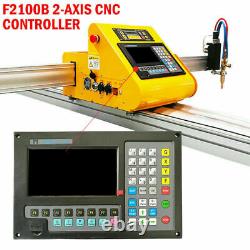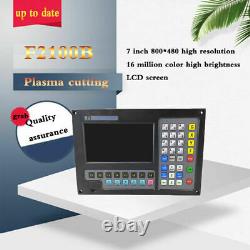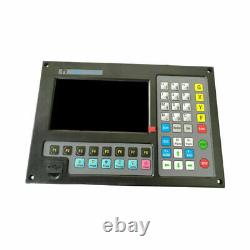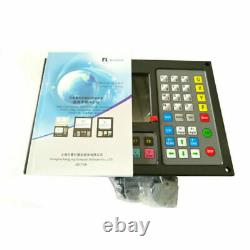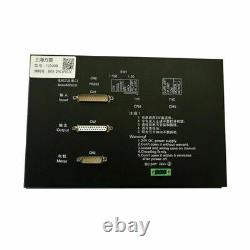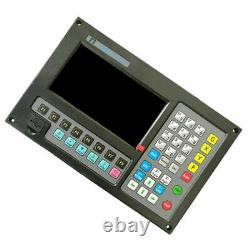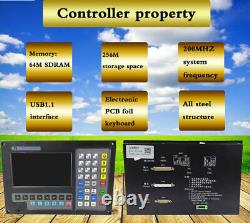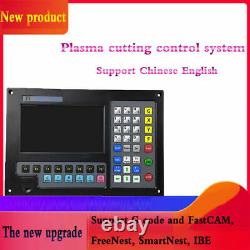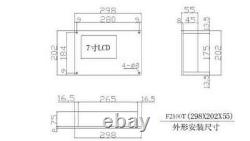 NewF2100B 2Axis CNC Controller for CNC Plasma Cutting Machine Laser Flame Cutter. System Features: 48 kinds of commonly used graphics library (including grid graphics), instead of setting sheet size and hole size. 75 supports EIA code (G code) and FastCAM, FreeNest, SmartNest, IBE and other categories Support suffix TXT, CNC, NC, MPG, B3 and other G codes. 75 supports common commands of ESSI code. 75 compact keyboard design, but the function is not simple, making manual input file more comprehensive Graphic scale, rotation, precision adjustment?
75 graphics can be divided by matrix, interactively, and stacked? 75 The original size of the workpiece and the slit size are displayed simultaneously, which is intuitive and convenient?
75 Graphic steel plate correction, any steel plate edge can be used as correction edge? 75 Customizable coordinate system, supporting all eight possibilities of two-dimensional coordinates? 75 can customize the type (normally open or normally closed) and number of all input and output ports? 75 can self-diagnose all IO states and button states of the system for easy inspection and troubleshooting? 75 front U disk interface, convenient for program transfer? 75 system upgrade adopts U disk upgrade method, which is convenient, simple, practical, and provides lifetime upgrade service? 75 supports system backup and system restore functions.
The system restore can restore the operating system alone or restore Factory status? 75 All functions and processes of the entire system are slightly upgraded online, eliminating the after-sales worry? 75 can be split or all import and export processing files? 75 Parameter backup and parameter restoration?
75 supports 4 modes: oxygen gas, plasma, powder spraying and demonstration? 75 category processing parameters are complete, can meet the needs of different processes? 75 Oxygen gas and plasma IO are controlled separately? 75 Oxygen gas automatic height adjustment, two-stage preheating, three-stage perforation? 75 Plasma arc voltage feedback, positioning feedback, automatic turning off arc voltage height adjustment?
75 suffixed with T controller, its own integrated arc voltage height control function (THC)? 1.75 Built-in plasma arc voltage automatic/manual height adjustment function: can display the actual arc voltage and set arc voltage, set arc voltage Increase the parameters, detect collision/positioning success signal, arc starting signal control, positioning test? 75 Plasma arc voltage control supports two closed arc voltage height adjustment methods of speed and distance, which makes the machine tool more stable.
75 supports edge cutting, which can reduce preheating time for thicker steel plates? 75 Real-time acceleration and deceleration during movement? 75 According to the thickness of the steel plate, the speed can be automatically limited at the corner to effectively prevent overburn? 75 Manually select the starting line or select the perforation point? 75 dynamic/static processing graphics display, graphics zoom in/out, dynamic tracking of cutting points in zoomed state?
75DSP high-speed, advanced interpolation control, high-speed operation, stable operation, low noise? 75 arbitrarily set the starting speed, the lifting speed? 75 has power failure, breakpoint protection memory function? 75 The ``cutting size'' function can avoid the waste of the plate caused by the wrong layout calculation? 75 can set different management permissions and corresponding passwords to protect the rights and interests of equipment manufacturers? 75 supports P2P mode or BCD (8421) and serial RS232 mode remote control? 75 supports laser point function? 75 supports plasma dynamic perforation function?
75 Processing piece counting, running time, perforation times and other information statistics Technical index: 1 Number of control axes: 2-axis linkage (three-axis or four-axis can be customized) 2 Control accuracy: ±0.001mm 3 Coordinate range: ±99999.99mm 4 Maximum pulse frequency: 200KHz; Maximum operating speed: 15m/min 5 Maximum number of program lines: 80,000 lines 6 The largest program: 4M 7 Time resolution: 10ms 8 System working power: DC + 24V DC power input, power is greater than 80W. 9 System working environment: temperature -10?
Relative humidity 0-95% non-condensing 10 Maximum power of driving arc voltage height adjustment motor: 45W (Note: only with T system). If you need volume work Rate, optional up to 200W.
System interface: a DB15 core male two-axis motor drive interface b DB25 core female head 16-channel photoelectric isolation output, the maximum reverse current is 300mA c DB25 core male connector 16-channel photoelectric isolation input, maximum input current 300mA d Built-in USB interface on the front panel, convenient for users to transfer cutting code e Extended IO input and output port; PWM input port; analog input port f Optional standard DB9 core male serial port RS232 interface The following interfaces are only available for F2000 series CNC systems with "T": g The arc voltage input divider ratio is selected instead of 1:50 or 1:100 h 5-core arc voltage height adjustment motor output and limit input port i 7-core arc voltage and positioning input, arc starting signal output port Hardware Configuration: 1. Display: 7 inch 800 480 high resolution 16 million colors color high brightness LCD screen 2. User program space: 256M 4.
Main frequency: 400MHZ system main frequency 5. USB: USB1.1 interface front end, supports at least 16GB USB flash drive. Keyboard: PCB film keyboard 7. Chassis: The all-steel structure is completely shielded, which can truly prevent electromagnetic radiation, anti-interference, and anti-static. Order may be cancelled due to insufficient of your information.
Missing item or get wrong item or damaged items, or the item seams can not work well, please keep all the items in original condition, make all the items together with packing, then take some photos of them and send us the photos by message box. (2) How we will react?
(sometimes you may be requested to return the incorrect item). (3) Valid time for returning. We promise to achieve your 100% satisfaction. Thank you so much for your kindness and understanding.
This item is in the category "Business, Office & Industrial\CNC, Metalworking & Manufacturing\Welding & Soldering Equipment\Welding Equipment & Accessories\Welders, Cutters & Torches\Plasma Cutters". The seller is "winwingoodthree-2" and is located in this country: CN. This item can be shipped worldwide.
Largest single program: 6M
Coordinate range: 99999.99mm
The maximum pulse frequency: 200KHz; maximum speed: 15 m / min.
Display: 7 inch high resolution 800*480
Power supply: DC +24V DC power input
Country/Region of Manufacture: China
Item Type: Plasma Cutter
Model: F2100B
Memory: 2 64MSDRAM
Brand: FL
User space program: 256M